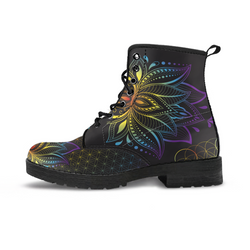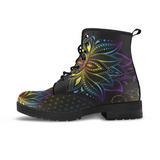 Your journey begins with a single step! Make every step count in our Lotus Flower Boots!
When did you last feel your shoes complimented your personality or your beliefs? Confidently express your individual style, cruise through any season with style and comfort with our new luxury Lotus Boots!
All of our Boots are custom-made-to-order and handcrafted to the highest quality standards.
★ Vegan-friendly leather with a double-sided print and rounded toe construction.
★ Lace-up closures for a snug fit.

★ Soft textile lining with sturdy construction for maximum comfort.
★ Water resistant material to make sure you easily cruise through any season!
★ High-quality rubber outsole for traction and exceptional durability.

★ Sizing guide available in image above.
Our exceptional boots are our pride and joy, custom designed just for you by us!
You can feel 100% safe ordering footwear online! We offer one free size replacement if the shoes you ordered don't fit. You just have to pick the size you would like to try and we will send it to you absolutely free of charge. 
Made With Love Just For You!
Orders Estimated Delivery Time: 2 - 3 weeks