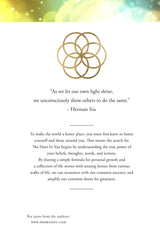 That means the search for "The Hero In You"
begins by understanding the true power of your
beliefs, thoughts, words, and actions.


By sharing a simple formula for growth and a
collection of life stories with unsung heroes from various walks of life, we can reconnect with our
common ancestry and amplify our common desire for greatness.

The Hero's Formula, simple and effective in form and function, offers people everywhere a way to harness the unlimited power of the inner self to improve their daily performance.
Through this formula, Herman shares his unique mix of ancient and modern teachings in order to inspire you to find positive ways to become one percent
better every day.

This book not only contains a short and enjoyable breakdown of each step in Herman's formula,
it also includes candid interviews with a special group of today's heroes.

Their stories bring the Hero's Formula to life in a
relatable way, proving that everyone has the capacity and potential to achieve greatness. 
CLICK HERE FOR THE HERO IN YOU!
ABOUT THE AUTHORS

Herman Siu is a sixth generation Shaolin temple
descendant.  His teachings and guidance are heavily sought after by business owners, entrepreneurs,
professional athletes, motivational speakers and
industry leaders around the world.
Visit www.hermansiu.com to learn more.
Mike Valley is a former NHL goalie coach and the
co-author of The Power Within and Embracing The Grind. 
Justin Goldman is the creator of the Lift The Mask mental health awareness program and the author of The Power Within, Embracing The Grind, Between Two Worlds, and The Periodic Table of Goaltending Elements.