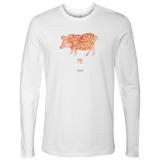 Once you know where you came from, it is so much easier to know where you are going!
Are you the sign of the Boar?
Express yourself with the "Boar Zodiac Tee"!
Our Zodiac Shirts are Custom printed & designed with love just for you!
Limited Edition item!
Our most popular Long Sleeve Tee!
Soft & warm!
You can expect the following delivery times 
         to receive your personalized shirt:
                 US Orders: 1-2 Weeks
                 INT Orders: 2-3 Weeks
Click the Add to Cart button to get yours!
Follow the sizing chart below: